Systems, packages and specialities in the field of wear protection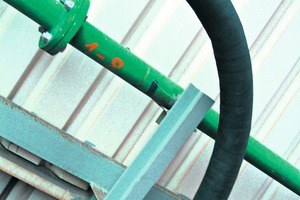 KALFLEX sind flexible Rohrbogen mit verschleißfesten Segmenten • KALFLEX are flexible pipe bends with abrasion resistant segments
Kalenborn's range in the field of wear protection solutions is more comprehensive than ever before. Kalenborn offers wear protection systems that exceed the pure function of simple linings. Typical examples are KALDETECT wear monitoring systems and KERAFLEX hard material rubber bonding. The KALFLEX system has been successfully proven in many practical applications.
Flexible pipe bends with wear resistant core
KALFLEX pipes (Fig. 1) are flexible pipe bends that are easily installed with normal flanging. The core elements are wear resistant segments that fit into each other. They are capable of...