Best investment thanks to universal use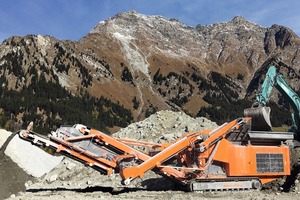 Quelle/Source: Kormann Rockster Recycler GmbH
1 Einsatz des R1100DS / R1200D Prall- und Backenbrecher im Kieswerk Casaccia • Use of the R1100DS/R1200D Impact/Jaw Crusher in the quarry Casaccia
Quelle/Source: Kormann Rockster Recycler GmbH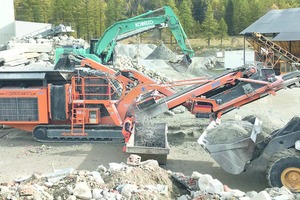 Quelle/Source: Kormann Rockster Recycler GmbH
2 Aufbereitung von Beton mit der DUPLEX-Anlage von Rockster, Einsatz des Prallbrechers R1100DS zur Erzeugung von 0/32er Endkorn • Processing of concrete with the Rockster DUPLEX system, use of the impact crusher R1100DS to produce 0/32 mm final grain
Quelle/Source: Kormann Rockster Recycler GmbH
B‌y using the patented Rockster DUPLEX system with jaw and impact crusher on one basic machine, the Casaccia gravel quarry at the base of the 'Maloja Pass' in Graubünden (Switzerland) can quickly and efficiently meet the diverse requirements of its customers.
The gravel quarry Casaccia – a part of the Hartmann Group – offers a wide range of gravel and sand types. Many construction companies from Graubünden and the neighboring cantons rely on the certified products such as a variety of different sands, gravels and grain mixtures. The increasing demand for recycling products such as concrete or mixed demolition granules is also taken into account at Casaccia's, so they additionally recycle C&D waste and offer it as a valuable resource for base layers or road construction. Through constant controls and refinement of the reprocessing methods, the recycling range is at the highest level and meets all necessary standards. Including this segment, more than 100 000 tonnes of material are processed in the gravel quarry each year.
The Rockster Duplex plant R1200D/R1100DS jaw/impact crusher plays an important role in the flexibility of the gravel quarry. Equipped with the unique, patented Duplex system, the crusher can be quickly modified from jaw to impact crusher and vice versa. With this flexibility, it is easy for the Casaccia gravel quarry to supply a perfectly defined standard and specification-compliant final product for its customers and partners.
For a 100 % defined final grain, the optional screening system for the R1100DS/R1200D is used. Any oversize grain gets back into the feed hopper via the return belt. For primary crushing operations in natural stone processing or for a desired final grain with very low fines, the Rockster plant is used as R1200D jaw crusher, while the R1100DS impact crusher is primarily used for finer crushing and recycling of concrete or demolition material.
C&D processing is not only done in the gravel quarry, but also directly on the construction sites of the Hartmann group. This requires mobility says Lorenz Biedermann: "Another advantage of the Rockster crusher is the low weight and compact transport dimensions. As a result, the crushing plant can be easily transported to a wide range of construction sites and put into operation quickly."
//www.rockster.at" target="_blank" >www.rockster.at:www.rockster.at