Newly published: AT Screening Technology 2021
16.10.2020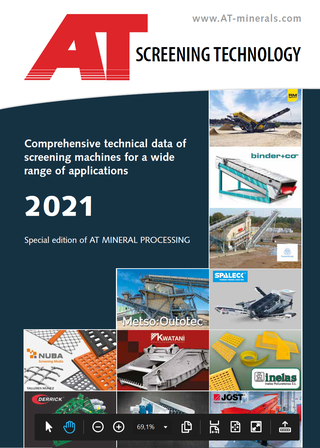 The AT SCREENING TECHNOLOGY supplement is the must-have for all screen manufacturers, distributers, suppliers as well as operators.

AT SCREENING TECHNOLOGY provides tabular comparisons for different types of screens and accessories, which are available for many different applications and is therefore an indispensable source of information for the selection of a screening machine.

For example, this overview includes the technical data of the circular-motion vibrating screens, linear-motion vibrating screens, elliptical-motion vibrating screens, rotary screens, laboratory sieving equipment, screen surfaces (cloths, plates) and many more. A directory of manufacturers rounds off the market review AT SCREENING TECHNOLOGY, which we provide to our readers as an up-to-date reference work.

The supplement is published annually and always accompanies issue 10 of AT MINERAL PROCESSING of the current year as a print edition.

Download here your free PDF version.